Here's a taste of some past releases still in stock!
This is the official re-release of the second Stone Axe album in a deluxe package. The two disc set features the original 10 song CD and 15 bonus tracks on disc 2 that were originally only available on the bands vinyl releases, compilations, and buried deep within their vault. Includes a 6-page fold out booklet with liner notes, again written by The Obelisk's JJ Koczan.
Northern Ireland's hottest import unleashes one of the most devastatingly heavy records with big time hooks that will have the meanest and grittiest headbanger singing along! The Devil Rhythm is a 40+ minute high-octane blaze across the highways and byways of the globe and features a guest appearance by Ricky Warwick from Thin Lizzy.
"Overall, The Devil Rhythm is an exceptional effort, well-written and well-produced. This album will undoubtedly satisfy both new-generation hard-rock fans and old-school rockers alike." -- Road Rayge Metal Mag
"In 25 words or less: "This band needs to be heard, so listen, share, talk, tell everyone about Trucker Diablo…" -- May the Rock Be with You
Gatefold LP featuring the remixed and re-mastered version of the album that started it all for Mos Generator. Also includes a CD with the entire album, as well as a previously unreleased track from the original recording sessions and the entire Live at the Manette concert. That's not all, folks! This package also includes a download card that will allow you access to the entire album, all the CD bonus material and exclusive, never before heard demos, live cuts, and a half hour extended rehearsal jam! This 10th Anniversary Edition is a must have for any serious Mos Generator fan . . . or, even if you're a first timer and want to know what the fuss is all about.
"All in all this is great stuff and this reissue belongs in everyone's collection if you have the original versions or not. 4/5" - The BCFM Sunday Rockshow
Metal Odyssey's Comeback Band Of 2011!
Metal Odyssey's Comeback Album Of 2011!
It's hard not to love it when grizzled codgers relive their teenage dreams in such style, and A DIFFERENT GAME is both tangibly authentic and, in an age when Rival Sons, Firebird and Stone Axe are hot hit-makers, oddly contemporary. 8/10" -- Metal Hammer Magazine
11 track Ripple Music self-titled debut from UK's favorite frolicking bad boys, Grifter. Blistering high octane rock n' roll performed for the gritty tattooed biker in all of us. Features the uncompromising "Good Day For Bad News", the sultry "Strip Club", and the acoustic-tinged heavy blues burner, "Gone Blues".
Top 20 (#12) Album of the Year -- The Soda Shop
Top 20 (#15) Album of the Year -- The Obelisk
#4 of Top 7 Albums of the Year -- A Brief History of Metal: The Good, the Bad, the Ugly of 2011
Massively though not excessively produced, it packs punch after punch with not a duff track in sight. Booze, broads, brawls and bad times. It's got 'em all. If you crave the down-home honesty of Sabbath, AC/DC, Motorhead, ZZ Top, Zeppelin, Purple or any other real-deal outfit who know what time it is, Grifter will rock your ass ragged with change to spare. 8 out of 10" -- Metal Hammer, Issue 225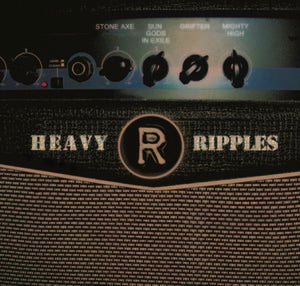 Heavy Ripples
vol I
- Shining the spotlight on a musical movement that's ready to blast the world back four decades, the Heavy Ripples double 7" compilation features the sonic delights of four up and coming acts who embrace the sounds of rock n' roll the way it used to be played: aggressive, uncompromising, honest, gritty, and most of all, fun! More than just an ode to the old school ways of rock n' roll, these four bands embrace the lifestyle and the sounds of a bygone era.
70's rock preservationists Stone Axe contribute a cover version of the Mos Generator tune, "Nightwolf"; Sun Gods in Exile, on loan from the incomparable Small Stone Records, turn in the southern-tinged "Over My Broken Bones"; the UK's dirty grit-rockers Grifter offer up two tracks, "Small Man Syndrome" and the tongue-in-cheek nod to porn legend Ron Jeremy, "Hey Ron"; and Brooklyn's favorite sons of punkified debauchery Mighty High drop the beastly "Hempaphobic". First pressing is limited to 500 copies.
Available on CD and 2XLP gatefold, multi-colored vinyl
Fen
Trails Out of Gloom
- Stunningly rich, deeply textured modern prog rock from the depths of the Vancouver Forest. Recommended for fans of Tool, Porcupine Tree, Incubus.
buy here:
Trails out of Gloom